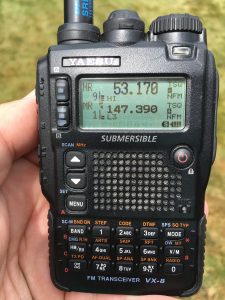 The Yaesu VX-8DR is a lot of radio in a small package.
First – some background on "dual-band", or even tri-band and quad-band mean. There are 3 meanings for "dual-band" radio in amateur radio specifications, and it isn't usually clear from the brochure which definition is used for a radio.
A true dual/tri/quad bander can transmit on one band at the same time it is receiving on another band, in full duplex. For example, while transmitting on 2m, an incoming call on 440 can be heard in the speaker. It's basically like having two completely independent radios inside of one case. This is the exception these days, but there are a few other radios that can do it including the Alinco DJ-G7 / Alinco DJ-G29, Yaesu FT-470, and others.
A radio that can receive on two frequencies at the same time without flipping back and forth in a scan. This VX8-DR, FT-2DR and others fall into this category. Transmitting on any band on this type of radio completely mutes all the receivers until the PTT is released.
A radio that can operate on more than one band, and maybe can even display more than one frequency at a time, but it can only receive on one frequency at any moment. The Baefeng, Anytone, and most other Chinese radios, along with the Yaesu FT-60 and others fall into this category.
Features
The full glossy brochure with all the features listed is available here on Yaesu's site
Covers 6m, 2m, 220 (at 1.5 watts), and 70cm, although the included antenna does NOT have 220 included. An after-market antenna can add that functionality. A frequency on any of the 4 bands can be put in any memory slot in any order.
Wide-band reception including a special mode to listen to standard AM and FM broadcast bands while still monitoring two ham frequencies. FM is even in stereo with headphones attached.
APRS modem and functions are built-in to the radio, and can be used with the optional GPS receiver attached to the radio or the optional speaker-mic. This function must be used on the bottom band of the radio, but leaves the top band free to have QSO's even while APRS is enabled on the radio.
The radio is very small and light. Light enough to put into a shirt pocket.
It even has some unusual features such as a CW practice/training mode and even temperature and barometer functions (although I've found the barometer to need calibration)
an optional Bluetooth board can be used with headphones and also for transmitting, although managing PTT with a standard phone Bluetooth headset is cumbersome.
A word about 6m Handheld operation
6 meters is included in this radio in full 5 watt transmit, and the antenna that comes with the radio has a screw-on extension that allows it to work on 6m. However, don't expect the same performance out of this setup as you get from a "real" antenna or even what you get out of a rubber duck antenna on 2m or 440. A quarter wavelength antenna on 6m is 54″ long, and works best with a 1/4 wavelength counterpoise of some sort. The long antennas coupled with the higher noise floor typically found on 6m compared to other VHF/UHF bands also add to the challenge. Operating 6m with the included antenna from this radio or any other handheld is a compromise at best. Having said all that, it still works, and is a handy feature if you're reasonably close to a 6m repeater or 6m receiver site.
One tip I picked up from Marty N8XPK is to keep 54″ of wire handy and slip it under the ground connection on the SMA connector when using the radio on 6m. It makes a big difference especially on your transmitted signal.
APRS on the VX8
Using APRS isn't quite as good on the VX8 as it is on the FT-2DR, but it's close. The radio does have a built-in APRS modem and functions, but does NOT have a built-in GPS receiver. That can be solved by adding Yaesu's optional GPS receiver, which can be attached to either the radio itself or to the optional speaker-mic (shown above). Together with the radio, it's a pretty nice package and has all the APRS functions you'd expect including messaging, position reporting, receiving others' positions, and distance/direction to others.
Pros
I don't know of another radio that has ever been made with 4 bands, APRS, FM Broadcast in stereo, and all the other features that the VX-8DR has, especially all in such a very compact, lightweight, submersible, sturdy package.
Considering it's capabilities, it's reasonably intuitive to operate even in the field without programming software.
It has a real headphone jack that can be used with most stereo headphones, including the 4-pin ones used with most smartphones.
Cons
You have to push a button on the side to adjust the volume. With practice it can be done one-handed, but it is still annoying.
Being small and submersible to 3 feet for 30 minutes, the buttons and controls are a little stiff even after a year of use.
Sound quality is a little bit on the tinny side on both transmit and receive. Voices are very intelligible on both TX and RX on this radio, but lack low end frequency response.
Summary
All radios have compromises in their design. The VX-8DR isn't flawless, but it's pretty close. I've never found a radio with more functionality and quality combined together, especially in such a small and rugged package. This is actually my favorite HT out of all of the portable radio's I've owned. In fact, I've owned two of them – I had one several years ago and sold it off to fund trying out other HT's. After a year or so I missed it and bought another one. If you're looking for a radio that is simple to operate for a newbie or someone that doesn't want all the technical clutter, this probably is NOT a good choice. However if you want one radio that can do just about everything except for digital modes and do it all well, this is the rig.