Please note the date change for the October meeting — October 28th is the meeting date for October.
SARA holds its monthly meeting on the third Thursday of every month except for December. All meetings begin at 7:00pm with SARA business and usually a technical or special topic. All meetings end no later than 8:45pm.
All SARA meetings are open to the public and all are welcome.
Before each meeting, an informal, optional dinner is held at one of the local restaurants in Wadsworth starting at 5:45pm. All choices will be a short walk to the WPL. Please plan to arrive no later than 5:45pm to complete your meal by 6:45 to leave time to walk to the library. Meetings will start promptly at 7:00pm without exception. You do not need to come to dinner to attend the meeting – they are completely separate events.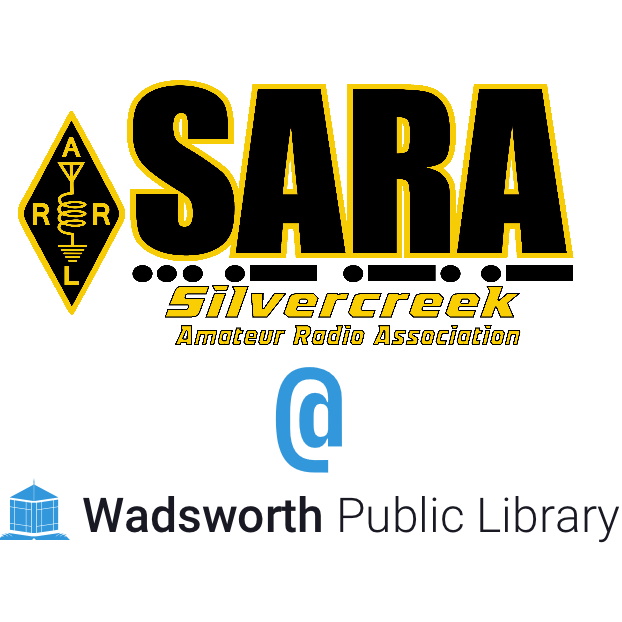 Meetings are held at the Wadsworth Public Library in one of the meeting rooms based on scheduling and logistics of the library that day. The meeting location will be announced on the net, listed below, and posted each month in the library.
The Wadsworth Public Library is located at 132 Broad Street, Wadsworth, OH 44281.
The following coordinate systems also can be used to locate the Wadsworth Public Library:
GPS DMS: 41° 1′ 32.7642″ N, 81° 43′ 41.412″ W
GPS Decimal: 41.0257680, -81.7281702
Maidenhead Grid: EN91DA26OE
US Military Grid Reference: 17TMF3878341872
GEOREF: GJJM16300154
Mapcode: F0Y.X6Y
Open Locator Code: 27GC+8M4
What3Words: ///files.shack.twig
Public Land Survey System: Connecticut Western Reserve, North Range 13 West, Township 1, Mathneys Subdivision, Lot 022-03
Wadsworth City: Lot 8633
Meeting Schedule for 2021
Date
Room
Presentation Topic
June 17
B
"I Got My License During COVID – Now What?" Session 1 Lightning Talks
Jason McCormick N8EI – "What is Field Day and why should I go?"
TBD – Quick Tips and Etiquette for Repeater Use
July 15
A
"I Got My License During COVID – Now What?" Session 2 Lightning Talks
TBD – New Hams: Getting past a Baofeng handheld
TBD – A First, Basic Shack – Cutting Through the Marketing
TBD – Why Upgrade to the General Class License
August 19
A
"I Got My License During COVID – Now What?" Session 3 Lightning Talks
TBD – Building Simple USEFUL Antennas
TBD – Logging Software and What to Look At
TBD – QSLing: A Ham Tradition
September 16
A
"I Got My License During COVID – Now What?" Session 4 – Belonging
Scott Yonally N8SY – Vice-Director of the ARRL Great Lakes Division
October 28
A
"I Got My License During COVID – Now What?" Session 5 – Real-World Use of Radio
Eric Marang WD8KNL – "What time is it? Time keeping and WWV"
November 18
A
"I Got My License During COVID – Now What?" Session 6 – Why Upgrade My License?
Tom Sly WB8LCD – ARRL Ohio Section Manager – "QRP/Portable operations and other reasons to upgrade to General"