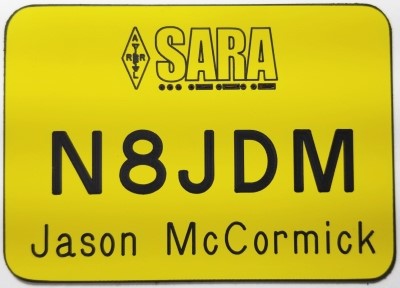 SARA has partnered with the The SignMan of Baton Rouge to develop and provide SARA-branded member callsign badges. The badges are the engraved style with black lettering on a yellow background. The top portion is the SARA logo followed by your callsign in the middle and the a line of text at the bottom, usually your name. The size of the badge is the same dimensions as the ARRL Appointees badge (e.g. VE badge, EC badge, etc.)
SARA is making one initial club-wide order this summer with all orders due by the July 18th meeting. After the bulk orders, members will be able to order their own badge from The SignMan's online store starting in August. This is not a fundraiser; all badges are being sold at-cost to SARA. Buying now vs. later will be the same costs, excluding shipping and handling (~$6), unless The SignMan changes price.
Costs for the badge will be as follows:
Badge: $16.50 (includes a basic safety-pin-style fastener)
Magnetic Fastener: add $2.75 (replaces the safety-pin fastener)
Swivel Alligator Clip: add $1.50 (replaces the safety-pin fastener)
Alligator Clip Adapter: add $2.50 (mounts over the safety-pin fastener)
Group Order Form
To order, complete the form below which will add you to the order and then make payment to the SARA Treasurer for your badge's total cost.