There are some area repeaters that are operated by SARA members independently of the club or are otherwise "Friends of SARA". The machines listed below are also connected into the microwave IP/Internet network used to provide remote management, Allstar, Echolink, and Brandmeister DMR network services. Here is their information.
N8XPK 6m Repeater Network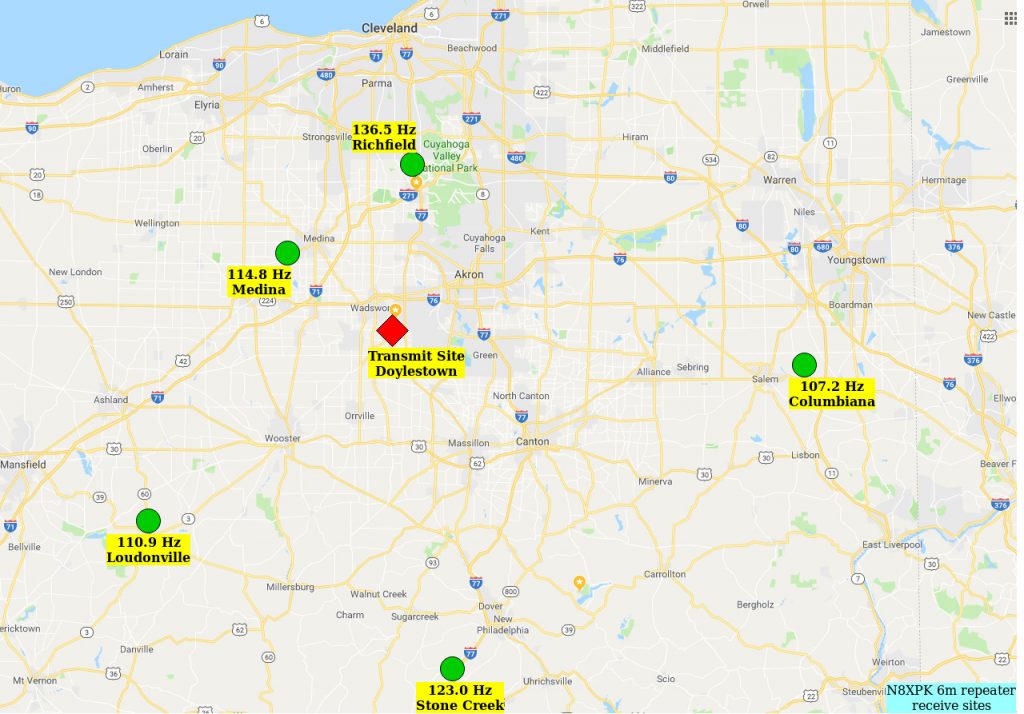 The N8XPK 6m Repeater Network is a wide-ranging 6m repeater with multiple receiver sites operated by Marty Baker N8XPK. The transmit site is located in Doylestown on the same tower as the SARA repeaters with an output power of 200W. Frequency is 53.170MHz with a -1MHz transmit offset of 52.170MHz. There are four receiving sites – Akron, Loudonville (intersection of I-70& US-30), Medina / Lafayette Twp, Stone Creek (off I-77 near New Philadelphia), and Richfield (I-77 & I-271). Each receive site has a different PL/CTCSS tone, and you can manually select which receiver you use by transmitting one these CTCSS tones:
Columbiana County – 107.2
Loudonville – 110.9
Medina / Lafayette Twp – 114.8
Stone Creek – 123.0
Richfield – 136.5
The transmit site always transmits an output tone of 107.2 regardless of which receiver is used if you wish to use Tone Squelch.
The 53.17MHz repeater is also Allstar node 42993 and Echolink N8XPK-R, and hosts a well-attended net on Sunday evenings at 7:00 PM Eastern time.
N8XPK 147.135, 444.200, and 1292.2 MHz
Marty N8XPK also operates:
147.135MHz (+600KHz offset) repeater with a PL of 110.9Hz
444.200 (+5MHz) repeater with a PL of 131.8Hz from his Akron site and Allstar node 43118 / Echolink N8XPK-L
1292.200 (-20MHz) (carrier squelch, no PL) and Allstar node 47987
All three repeaters have been on the air in the Akron area for decades in various forms, and provide excellent coverage to the Akron metro area and beyond.
Wayne Technical Fanatics
The Wayne Technical Fanatics are all SARA members who support and operate local repeaters and to test out new technologies and concepts that may eventually be used in the W8WKY and N8XPK systems. The Wayne Technical Fanatics operate three repeaters:
WW8TF – Frequency is 442.375 MHz (+5MHz input). Located in Rittman, it provides coverage from Wadsworth to Orrville to Medina.
KE8LDH – Frequency is 442.5125 MHz (+5MHz input). Located in Akron, it provides coverage in the Akron metro area.
KE8LDG – Frequency is 442.7375 MHz (+5MHz input). Located in Rittman, it's a low-profile repeater for testing.
All three repeaters are multi-mode digital supporting D-Star, Yaesu System Fusion (CF4M),DMR (Brandmeister), and P25. Mode is selected based on the received signal – i.e. send D-Star in, get D-Star out. D-STAR input is the callsign with module "B" (e.g. WW8TF_ _B) and gateway "G" (e.g. WW8TF_ _G). DMR input is Color Code 1. P25 input is NAC293.
All three repeaters are linked through the D-STAR XRF330A reflector as their default mode.
The Wayne Technical Fanatics also operate the WW8TF-1 (RITTMN) and WW8TF-2 (AKRON) APRS digipeaters and the WW8TF-10 APRS iGate.
See http://ww8tf.club/repeaters/ for more details.
KA8OAD
Ken Dorsey KA8OAD DMR repeater located near Copley. Frequency is 444.5125 MHz (+5 MHz input) with input Color Code 7. Connected to the Brandmeister Network. TS1 for local traffic; TS2 for all network traffic. Talkgroups permanently on TS2: Local 9 (9), Ohio (3139), Ohio TAC (31390), NE Ohio (31391).