As most of you that listen to SARA's 2m repeater are aware, we've had a noise that competes with users that have weaker signals and sometimes makes them harder to copy through the repeater.
The Technical Committee is looking into the source of the noise, but have not found the root cause yet. If you haven't heard it, below is the raw sound the noise makes. Normally this pulse noise is heard under the user's signal, or if the user's signal is weak enough it will "push" their signal out of the repeater's receiver:
Here's what we do know:
The noise is NOT originating in the repeater or its antenna systems. It is external to the repeater site
The interfering signal is strong – it can be received at least 7 miles away from the repeater site
It is broadband – and is audible and viewable on a spectrum analyzer from about 138MHz to about 150MHz, which happens to include the 147.990MHz repeater input frequency
The interfering signal is strongest in the north east corner of Wadsworth, around the intersection of route 261 and I-76, but direction finding shows that it may be originating from more than one location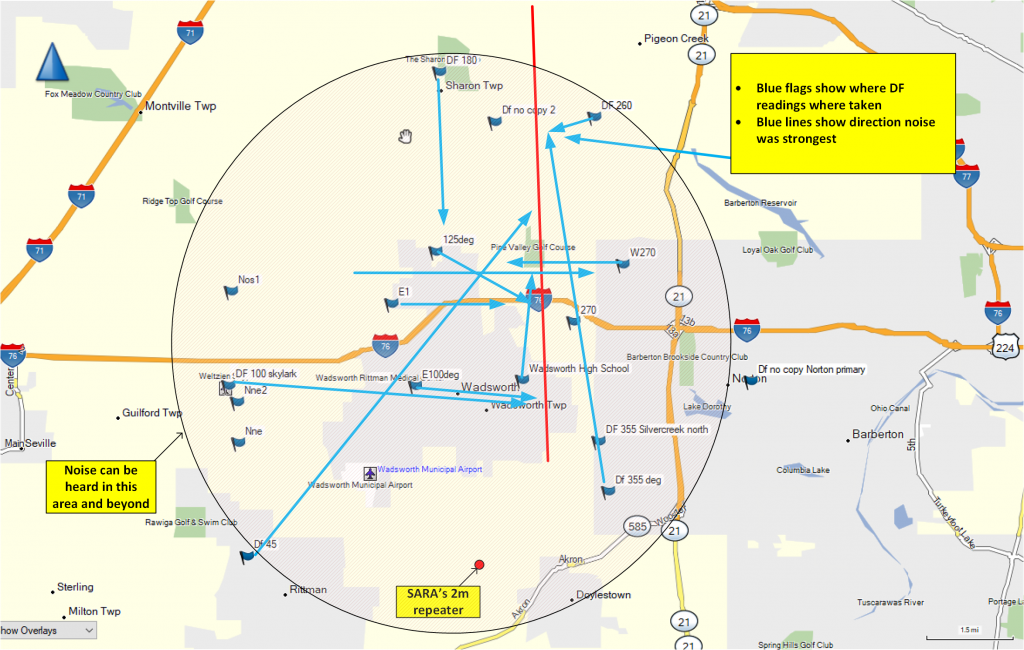 If you recognize the sound or characteristics of this noise, we'd love to hear from you. You can contact John N8CD
As more is discovered we'll post it here. Thank you to everyone for their patience with this!