Updated: July 8, 2018
It was another great Field Day for The Silvercreek Amateur Radio Association. See John N8CD's great write-up for some details and pictures of the event!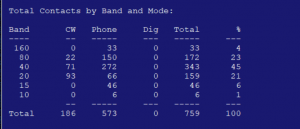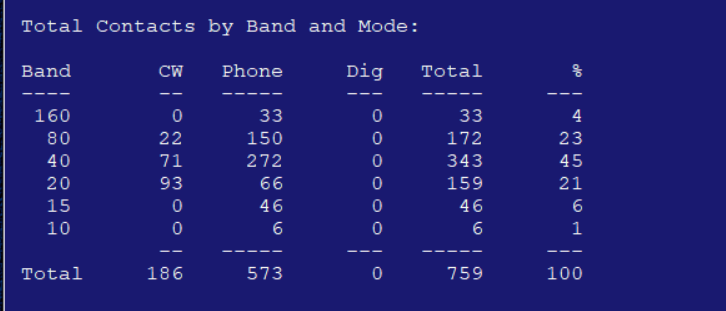 SARA operated W8WKY as a 4 Alpha station. That means that all four simultaneous-operation transmitters were operating on emergency power of some form – generation, solar, or batteries. We operated on every HF band available to us in the event from 10m to 160m. We made 186 CW contacts and 573 SSB Phone contacts for a total of 759 QSOs and 1890 QSO points ( 186 CW * 2 + 570 Phone = 945 QSO raw points * 2 power multiplier = 1890 points).
Additionally, SARA operated WW8TF as a GOTA station (WW8TF is the club call of the Wayne Technical Fanatics who are all also SARA members). WW8TF had 14 GOTA contacts on Phone for an additional 28 points (14 QSOs * 2 power multiplier).
That brings the combined total of all radio operations to 1918 points!
Additionally, we accrued 1490 bonus points in the following categories:
100% Emergency Power (100 x 4 transmitters = 400)
Media Publicity (100pts)
Public Operating Location (100pts)
Information Booth (100pts)
Message to the ARRL SM/SEC (100pts)
Copy of the W1AW special message for Field Day (100pts)
Minimum 5 QSOs made by natural/alternative power (100pts)
Site visit by an elected official – Mayor of Rittman (100pts)
Site visit by an served agency official – Joe Villegas of the Wayne Co. EMA (100pts)
Youth operators – 20pts per < 18yr youth operator, we had two (40pts)
Safety Officer bonus (100pts)
Social Media bonus (100pts)
Web submission of Field Day results (50pts)
That gives us a grand total of 3408 points for Field Day 2018. This is our best score in the last 12 years and our third highest QSO count (see below for full data).

I want to thank everyone who came out an operated (some statistics at the end of this article). I especially would like to thank the following:
Mike Burg N8QQN for his extraordinary efforts at the information table, doing all of the media relations, taking pictures at Field Day, and keeping up with all of the publicity/PR that makes Field Day a success for the community.
Bob Bohn W8IJG and his wife Barb for their culinary skills for Saturday dinner and Sunday breakfast. Bob took care of cooking for us as well as gathering up all of the food prep material.
John Wagner N8CD for setting up the local network this year for the logging software and preparing three laptops for logging.
Barry Youmans KI8B for doing all of the legwork on renting the hall and for providing the generator and the gas.
Fred Sheppard KD8GYS for bringing in the Wayne Co. EMA van and meeting with people in the van for tours and talking about amateur radio.
Ken Dorsey KA8OAD, Mike Gerlach KD8TQU, Gary Shorter AA8CS, and Barry Youmans KI8B for bringing radio equipiment and allowing everyone to use it.
Bob Scaffidi WD8KND for donating the radio used at the first SARA Field Day for display.
Additionally, I would like to thank everyone who helped setup and tear down our Field Day operations. The ones I know for sure are: Gary Shorter AA8CS, Zeke Zadrika AB8OU, Ken Dorsey KA8OAD, Benny Murawski KC8DEO, Fred Sheppard KD8CVS, Brooker Breece KD8JNX, Mike Gerlach KD8TQU, Jeff Royer KE8HEA, Barry Youmans KI8B, John Wagner N8CD, Del LaBo N8OFP, Mike Burg N8QQN, Marty Baker N8XPK, Bob Scaffidi WD8KND, Eric Mast WD8KNL, Milorad Cucuz WW8TM, and Chris Talaski. There were others, especially those that came in right at the beginning of field day to visit who ended up helping with the guy wires on the military mast, but I didn't get to record/meet them all — but if you were there, thank you!
Finally, I would like to thank our "independent" photographers Jeff Royer KE8HEA and Del LaBo N8OFP for providing some great additional photos of our operation.
Mark your calendar next year for June 22-23 for Field Day 2019!
Note: This article was updated from the original July 3, 2018 to fix an error in the tabulation of the GOTA station points.

---
Statistics on SARA's Field Day Operation
The N3FJP software calculated our total operating time across all bands as 20 hours and 56 minutes (deducting breaks detected > 60 minutes).

The highest number of contacts were made on 40m (45%) followed by 80m (23%) and 40m (21%).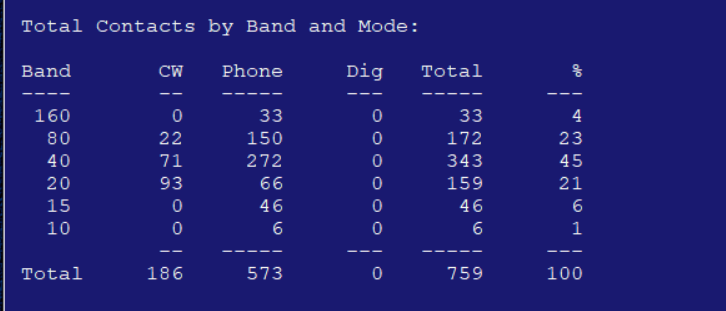 Unsurprisingly, the highest percentage of our contacts by ARRL Section were in Ohio (10%) followed by Michigan (7%). Beyond stations in the US, we made 43 Canadian QSOs and two from Europe (France, Hungary).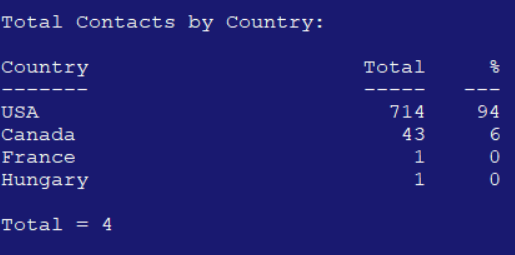 We had 12 distinct logged-in operators working W8WKY and two GOTA operators on WW8TF.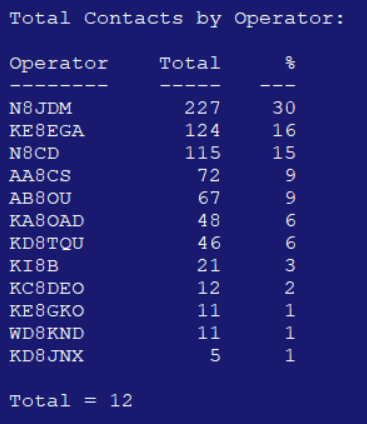 Past Scores
Several people have asked about previous scores. Looking at the ARRL online database, we had the following scores back to 2006 which is the first entry for us:
2017 – 2,468 points, 521 QSOs as 3A
2016 – 3,048 points, 617 QSOs as 4A
2015 – 2,238 points, 429 QSOs as 5A
2014 – 2,722 points, 656 QSOs as 4A
2013 – Not in ARRL Database
2012 – 2,396 points, 704 QSOs as 4A
2011 – 2,016 points, 532 QSOs as 3A
2010 – 2,598 points, 823 QSOs as 4A
2009 – 1,728 points, 564 QSOs as 3A
2008 – 1,478 points, 414 QSOs as 4A
2007 – 2,192 points, 659 QSOs as 5A
2006 – 2,790 points, 892 QSOs as 4A
This year appears to be our best score in the last 12 years and our third-highest overall QSO count total.