I'm sitting here this evening working on finishing compiling the documentation package to submit to the ARRL for Field Day 2018 and as I re-read all the information given to me by Mike Burg N8QQN on his efforts at media coverage for our Field Day, I'm not sure that I've made clear before how much effort and success Mike has had for us.
For media publicity alone, Mike accomplished the following:
Press releases to print media:

The Daily Record (Wooster)
The Post (Norton/Wadsworth/Rittman)
Akron Beacon-Journal
Media County Gazette

Press releases to TV and radio:

WEWS Channel 5
WOIO Channel 19
WJW Fox 8
WKYC Channel 3
WCTV Wadsworth Community Television
WQKT 104.5 FM
Wadsworth Community Radio 97.1 FM

Other media:

Rittman Mayor Bill Roberston's weekly column in The Rittman Post
Wayne County Events Website
City of Rittman website
Wayne Co. EMA
Medina Co. EMA
Fliers to the Rittman, Wadsworth, and Norton libraries
From reviewing the log sheet, there were at least 34 non-club visitors to our Field Day. I know there were many more who didn't sign the guest sheet. Additionally, Fred KD8CVS said there were a number of visitors who stopped by to see the Wayne Co. EMA Comm Unit in the parking lot who never came into the building. I think it's safe to say that we had at least 45 non-club visitors to our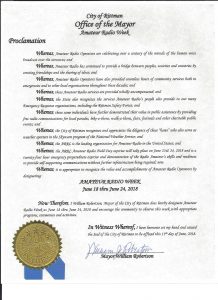 Field Day – and that's a conservative estimate I think.
Additionally, we had our annual visit from Rittman Mayor Bill Robertson and also from Wayne Co. EMA Director Joseph Villegas. Both obtained us 100 points for being visited by an elected official and by a served agency representative.
Finally, Mayor Robertson declared the week of June 18th to be Amateur Radio Week in Rittman in support of our Field Day operations.
I wanted thanks Mike Burg N8QQN again for his excellent and dedicated work to making our Field Day a huge success!
Jason N8JDM, Field Day 2018 Chairman