Another field day is behind us, and it was a great success! 2018 was once again run at the Rittman American Legion hall. Setup was very well attended and began right after 9AM on Saturday, with stations on the air shortly after the 2PM contest start time. There was some rain during the setup but it didn't stop the effort.
SARA ran class 4A this year with 4 stations stations on 160m through 10m along with a GOTA (Get On The Air) station to allow ham-curious people to get on the air under the supervision of a control operator. SARA also had use of the Wayne County Emergency Management Agency's communication van courtesy of Wayne County EMA Director Joe Villegas.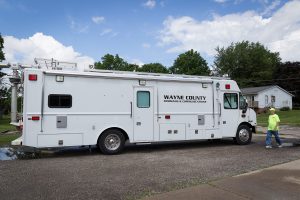 Fred KD8GYS made arrangements to get the van on site for demonstration purposes. Although we didn't run any Field Day stations from the van itself, it brought a lot of new people in to see the impressive setup.
Thanks to Field Day chairman Jason N8JDM for getting us all organized, along with Mike N8QQN, Barry KI8B, and many many others for their efforts. And of course, Bob W8IJG and his wife Barb for an outstanding dinner of meatball sandwiches and some of the most fantastic pasta salad on the planet. Bob followed up dinner with vanilla pancakes, eggs, and sausages, which were fantastic as well.
The scores will be tabulated over the next couple of weeks to include all fo the bonus points (and we got almost all of the bonuses possible!), but the initial stats are:
CW : 191contacts
SSB: 570 contacts
Total contacts 761 for a total of 952 contact points. Note that this is the highest contact number and score for SARA in the last 4 years! In addition to working almost all states, we also had contacts with Canada, France, and Hungary. The bands weren't the greatest this year, but we forged ahead for the full 24 hours. Conditions got better on Sunday morning which allowed us to surge ahead and beat our previous year's contact counts.
Antennas this year were a mix of vehicle mounted whips, roof-mounted rotatable dipoles, wire dipoles, and a full-size 160m dipole with the "Big Signal" balun many of us remember from old QST advertisements. Fred's truck-mounted telescoping mast, a 40′ military mast, rooftops, and trees were the supports for the antennas.
Gary AA8CS showed off his marksmanship with several impressive shots over a telephone pole and high up into a tree to support the full-sized 160m dipole.
We had a record number of guests this year, with over 30 people signed into the visitor log. At one point on Saturday, the room was almost crowded with operators, visitors, and members, and even a visit from ARRL Ohio Section Manager Scott Yonally N8SY.
Click on the pictures below to see larger versions or to view a slide show.
Note there are 3 pages of pictures – choose 1,2,3 from below the thumbnails below.
[ngg_images source="galleries" container_ids="46″ display_type="photocrati-nextgen_basic_thumbnails" override_thumbnail_settings="0″ thumbnail_width="120″ thumbnail_height="90″ thumbnail_crop="1″ images_per_page="48″ number_of_columns="0″ ajax_pagination="0″ show_all_in_lightbox="0″ use_imagebrowser_effect="0″ show_slideshow_link="1″ slideshow_link_text="[Show slideshow]" order_by="sortorder" order_direction="ASC" returns="included" maximum_entity_count="500″]