Hamvention 2018 is now behind us, and it was a great event.
Day 1: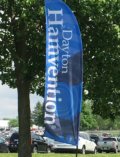 Jason N8JDM and John N8CD got on the road around 6AM on Friday for the trip down. We checked in with the Barometer Net and were active until a bit past Mansfield. John N8CD had had his mobile hotspot and was able to keep in contact with other SARA members making the trip out on Friday. Jason N8JDM also worked some 2m simplex around Columbus with another group carpooling to Xenia but forgets the callsign (Sorry guys!). 2.5 hours later we arrived at off-site parking lot #2 (Xenia high school) and were on a short school bus ride within 5 minutes to the Greene County Fairgrounds. From there we boarded a large bench-filled wagon and were pulled by a large farm tractor over to the entrance area.
Even as we pulled into the parking lot, our first impressions were how the entire community around Greene County, Xenia Township, and the City of Xenia pulled together to support the event. It wasn't just hams helping out either. Volunteers including high school students helped with parking and directing walkers and golf carts. Bus drivers, hams, and other volunteers were everywhere helping out in every way possible. The Greene County Sheriff had a deputy at all the right spots to help with traffic control, and any time there was some doubt about which way to go there was a person to get you to the right place using understandable gestures. The talk-in operator(s) did a great job of both directing in cars who needed assistance and keeping up with the latest traffic conditions, such as an accident that briefly delayed traffic along the main road by the fairgrounds. Not only were there plenty of people helping, every single one of them was cheerful and seemed genuinely happy to be helping. Kudos not only to the Dayton Amateur Radio Association (DARA) for putting such a large event together with a mostly volunteer staff, but also to all of those people in the community that help with the event!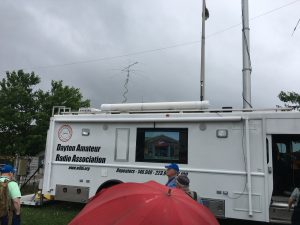 Upon entering the fairgrounds, we were greeted with the Emergency Communications Van rally along with multiple portable towers in excess of 50 feet high topped with a variety of antennas. We quickly hit one of the vendor halls before attending the APRS Forum at 10:45 that included Bob Bruninga, WB4APR (one of the orignal inventors of the technology), then started into the flea market. Rain sprinkled on and off throughout the day, which hampered some of the flea market viewing, but having come prepared for rain we never felt as if we needed to head indoors. For the most part the weather cooperated, and in some ways the occasional rain was a lot better than 90 degree heat. The flea market area is in two main sections – one is outside of the main track area, and one is inside the track. The area outside of the track did have some mud but considering how much rain fell the week before Hamvention it wasn't bad at all. The walkways inside the track were lined with asphalt grindings just a few days before the start of the event courtesy of the city of Xenia, Greene County and the state of Ohio, and that took care of the mud issues in most areas.
Lunch was a couple of fantastic cheeseburgers from the Cattlemen's Association food truck, followed by more flea market and vendor hall touring, picking up a few needed (and "needed") items along the way. We ran into and caught up with quite a few SARA members and other locals that made it to Hamvention before grabbing the shuttle bus back to the parking area and heading to the hotel around 5:00 P.M.
Day 2:
For day two, we decided to try parking at the fairgrounds instead of the remote lot since we were coming in early, before the gates opened. Again, we found plenty of well organized, cheerful staff and volunteers on hand to get us to the right place and on our way to the event along with dozens of golf carts to help people that needed a lift to the event. In fact, there were so many golf carts, that many of them had open seats while they made the circuit and picked up others along the way. The field had some mud from the recent rains, but was drained well enough that we didn't see anyone getting stuck.
Saturday was a little more crowded than Friday partly because of tour buses that bring in probably thousands of people. That, coupled with an occasional hard rain shower in the morning made the vendor halls fairly crowded and harder to navigate than they were on Friday.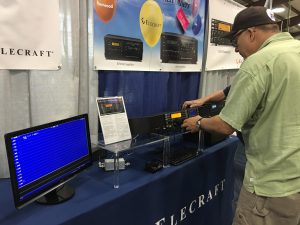 Even with these factors though, the inside space was still significantly better than the Hara Arena indoor experience from the past. Most of the vendors had large, hands-on displays of their radios, antennas, and other gear – and show special prices were everywhere at the vendors. We were able to get our hands on the new Flex Radio 6400M and other new gear. We also met the lead designer of the new Kenwood TS-890S who flew in from Japan for the event. We ran into more SARA members and others from our area and caught up with them.
Lunch was from a "Steak on a Stick" trailer. I've had a lot of steaks over the years from a lot of different places. I'm not exaggerating when I say it's one of the best steaks I've ever had… AND it was on a stick!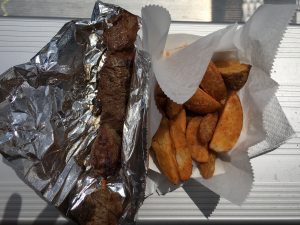 We attended the ARRL Member Forum in the afternoon, where we heard from ARRL Great Lakes Division Director Dale Williams, WA8EFK and ARRL President Rick Roderick, K5UR talk candidly about recent and upcoming changes with the ARRL, ARES, and other topics. Two of the big takeaways were that amateur radio needs to plant it's flag firmly in the 21st century to attract and retain younger generations of ham and that the ARRL ARES program must become more organized and able to integrate with government and professionally-led response efforts.
Among our purchases from the first day, both of us bought 45 foot high aluminum mast kits with all the accessories along with a few other heavy items. One of the great features of the layout and organization was were able to check them in and leave them at a "pick up" booth that had been setup for heavy equipment pickup. After we left the event, we got the card and then drove right up to the booth and loaded up our treasures.
Summary: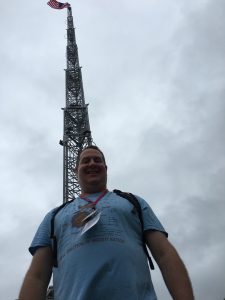 Hamvention is a lot of walking, but a great place to find deals on new and used gear while you learn about the latest things and catch up with friends. It is also a well organized, must-see event for hams, and moving to the Greene County Fairgrounds is a big step up and is a great fit for Hamvention. DARA, along with the Xenia-area community is doing everything possible to make it as good as it can be. Both of us have already booked rooms for 2019 and plan on doing it again. The layout and the expanse of the event doesn't really lend itself to being able to do Hamventon in one day anymore and with the expected room to continue to expand, the dedicated enthusiast may want to plan to attend for two days.
Here's a complete album of pictures from around Hamvention 2018.
[ngg_images source="galleries" container_ids="45″ display_type="photocrati-nextgen_basic_thumbnails" override_thumbnail_settings="0″ thumbnail_width="120″ thumbnail_height="90″ thumbnail_crop="1″ images_per_page="48″ number_of_columns="0″ ajax_pagination="0″ show_all_in_lightbox="0″ use_imagebrowser_effect="0″ show_slideshow_link="1″ slideshow_link_text="[Show slideshow]" order_by="sortorder" order_direction="ASC" returns="included" maximum_entity_count="500″]
– Jason N8JDM and John N8CD