Well, another Field Day is in the books! Field Day 2021 will probably be a memorable one for years to come as it's the first Field Day since the COVID-19 pandemic. So many hams that haven't seen each other for a long time were around at Field Day at one point or another. On our ARRL score sheet I claimed 45 participants, but I'm sure we had more than that!
Score
This year our preliminary score is 2424 points. That score is made up of 1,154 QSO points and 1,370 bonus points. That down significantly from our 2019 score (3,376) however I think the club burned the first 6-7 hours of operating time socializing and getting to know each other again! As I said, so many people who hadn't seen each other in a long time.
The breakdown of our QSOs this year is as follows: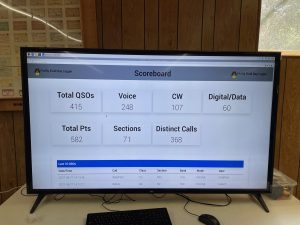 | Band | CW | Digital | Phone |
| --- | --- | --- | --- |
| 160m | | 33 | 2 |
| 80m | | | 127 |
| 40m | 91 | | 63 |
| 20m | 15 | | 40 |
| 15m | | | 12 |
| 10m | | 26 | 1 |
| 6m | | | 1 |
| 2m | | | 1 |
Additionally we scored the following in bonus points:
100% emergency power – 500
Media publicity – 100
Public location – 100
Public information table – 100
Formal message to the ARRL SM – 100
W1AW Field Day message – 100
Site visit by elected official – 100 (Rittman mayor, Rittman council)
Site visit by a served agency – 100 (Wayne Co. EMA)
Youth participation – 20
Safety officer – 100
Web submission – 50
Special Thanks
While so many people made Field Day possible, the following people were key to making Field Day a success
Russ Orr KD8VYT – Russ stepped up to take care of all of our food needs. Russ went above and beyond for the last minute call to duty he accepted. Russ provided sausage sandwiches, coleslaw, and baked beans for dinner. He also made scrambled eggs, sausages, and bacon for breakfast. Russ put in a lot of work in a short period of time and his efforts for the club are greatly appreciated.
John Wagner N8CD – John, as usual, provided the IT equipment for the logging system. John re-imaged all the laptops, setup a WiFi network, and provided the Pi for the logging server.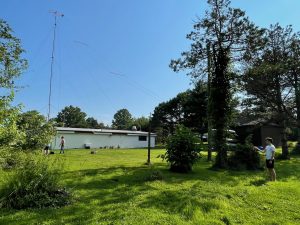 Jeff Royer W8TB, Javan Miller W8UA, Landon Miller KE8FAE, Nick "The Tent Stake" Traweek KD8SLG, Stephen Kinford N8WB, Rick Nemer N8NOQ, Scott Talbot KD8RWX, Bill Storr N8LTR, Marty Baker N8XPK, Dave Spondike NT8D, Pat O'Dell KE8LUU, Nick Kinney KE8QKO, and Brooker Breece KD8JNX for helping test or deploy the Field Day antenna and filter system.
Gary Shorter AA8CS – Setup the information table and did his usual fantastic job of greeting and mingling.
Nick Kinney KE8QKO – Served as safety officer and provided the generator and gasoline.
The Bucket List Restaurant / Scott Talbot KD8RWX – Donations of salads for dinner.
There were many others who operated and pitched in during the weekend. Unfortunately I did not capture a full list. You know who you are so THANK YOU.
Antenna and Filter System
This year, SARA achieved it's multi-year vision of being able to have all five standard HF stations on the air simultaneously using one antenna and feedline. Each radio 80m – 10m was fitted with a 200W band pass filter. Each filter was then connected to a triplexer which provided additional frequency pass/islocation. The triplexers are a low pass, band pass, and high pass put together. So the bottom and top end of each filter can pass everything below or above it respectively. this allows the triplexers to be chained together. Here's the final layout of the filtering.
The Terminated Folded Dipole worked very well. We used it in the inverted-V / double tilt fashion. The antenna's resistor pack withstood a weekend of operating including a fair amount of CW and FT8 transmissions. The club has found its antenna for the next few years. Jeff Royer did a fly-by of the antenna with his drone.
Photos
There were not many photos submitted this year from Field Day. Please contact Jason N8EI if you have photos to share and he will provide you with an upload location. What we have so far can be found on our new Flickr photo gallery.
Field Day Chairman Role
I have enjoyed organizing Field Days for a few years now. However, now that I am serving as the club President, it's time to hand off the Chairman's sceptre (and the boxes of stuff!) to someone else. The Executive Committee plans to setup a committee just to plan and execute events, notably ARRL Field Day but possibly also Ohio QSO Party and Winter Field day as well. More to come on that!
Thanks for a great 2021!
Jason N8EI