Well, our scores are reported and everything is official so all that's remaining is the Field Day Chairman's Report. So here it is!
Field Day 2019 by all accounts I've heard was a success. I received a number of positive reports by radio and e-mail about SARA's Field Day, including one Field Day veteran who said it was the most enjoyable Field Day he'd ever had. I'm taking that as the definitive word on people's enjoyment of the event. The weather was also beautiful which helped out as well!
People Who Made It Possible
Starting off, there are a number of people that I need to thank specifically for making Field Day a success: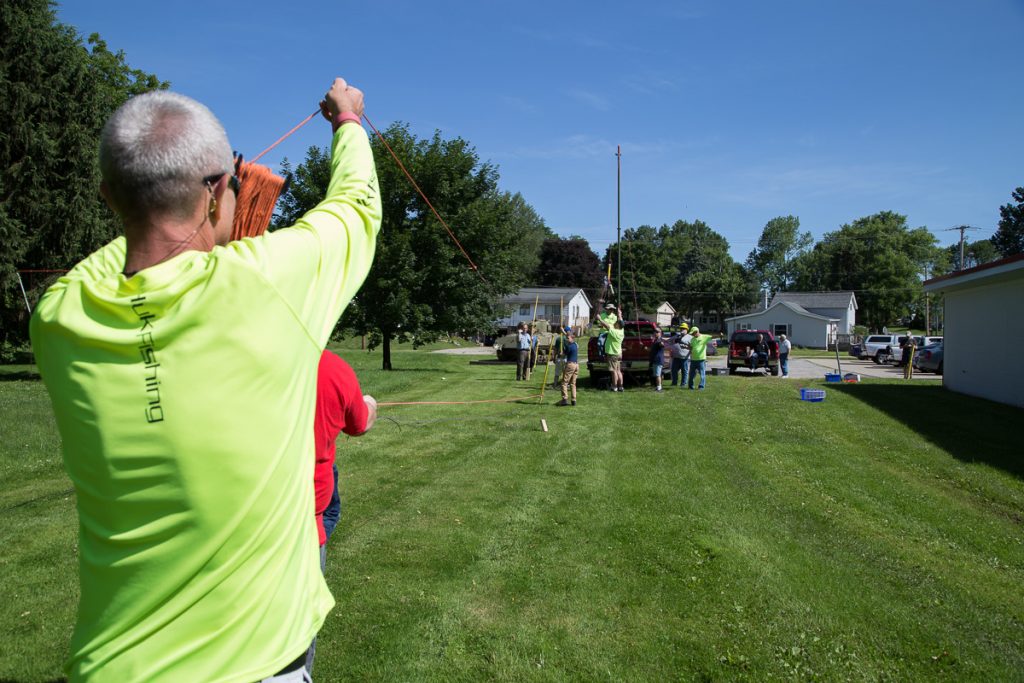 John Wagner N8CD for his technical support preparing the Field Day laptops, the Field Day site network, and extensive conceptual and testing help with the antenna.
Gary Shorter AA8CS and Jeff Royer W8TB for their support in the pre-event antenna testing which involved a number of raising and lowerings of the antenna. Both also served as photographer at various times during the weekend.
Mike Burg N8QQN for his usual excellent job at organizing the PR and the information table, including getting us covered in the paper. On a side note, this was Mike's last year serving in this role and we'll be looking for a 2020 replacement! Thanks to Mike for his many years of service doing this for SARA!
Barry Youmans KI8B for his logistics handling of the Legion Hall, providing the generator, and doing performance tests on the proposed bandpass filters.
Bob Bohn W8IJG for organizing, buying, preparing, and serving dinner and breakfast. Bob's culinary arts are the reason most people come out to Field Day!
Benny Murawski KC8DEO, Fred Sheppard KD8GYS, and Ken Dorsey KA8OAD for taking care of innumerable tasks around the site for the weekend.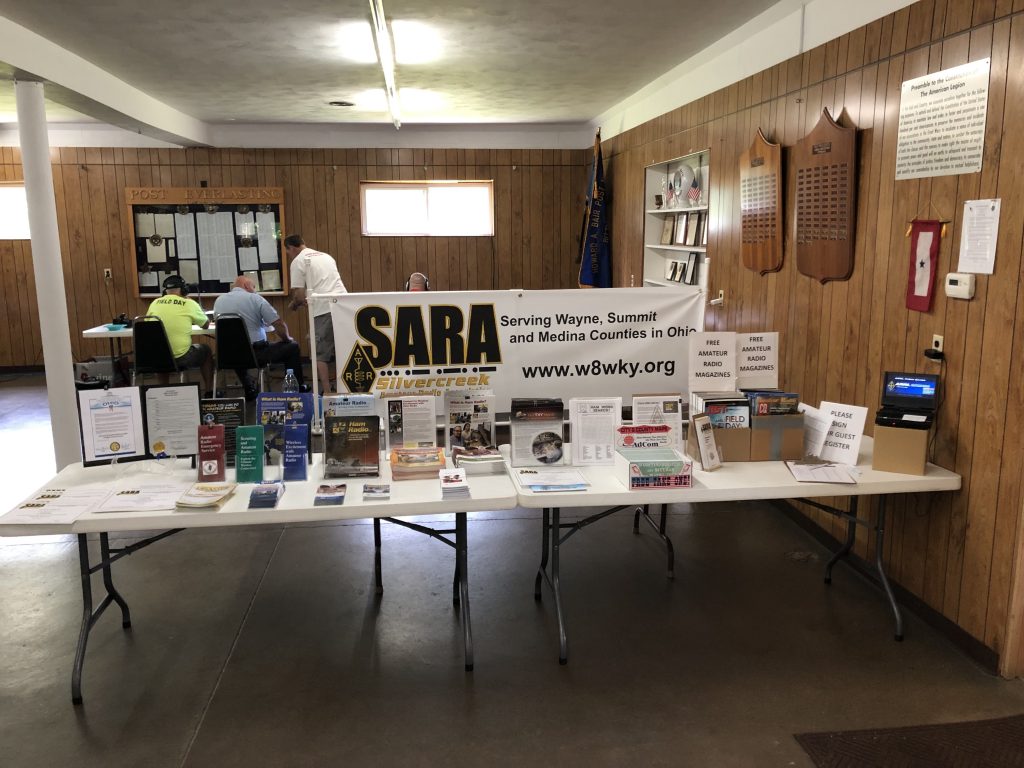 Additionally, there were a number of people who showed up to setup on Saturday and/or tear down on Sunday – Doug Hunter KE8JNH, Dave Spondike N8SAX, Zeke Zadiraka AB8OU, Rick Deaver WB8UTW, Eric Marang WD8KNL, Bob Scaffidi WD8KND, Brooker Breece KD8JNX, Eric Mast W8ELM, Marty Baker N8XPK, Gary Shorter AA8CS, John Wagner N8CD, Jeff Royer W8TB, Fred Sheppard KD8GYS, Bennie Murawski KC8DEO, Mike Burg N8QQN, Ed Smith AC8ZS, Joe Miller KE8FRP, Landon Miller KE8FAE, Javan Miller N8JLM, Mike Gerlach KD8TQU, Barry Youmans KI8B, Pat O'Dell KE8LUU, and Scott Talbot KD8RWX. I'm sure I didn't capture them all and my apologies for those I missed. Drop me an e-mail and I will make sure you're on the list above so your contribution is recorded to posterity!
And of course, thanks to everyone who operated a radio during the field day. I don't know that we got everyone properly in the operator log, but those that were recorded were Barry Youmans KI8B, Gary Shorter AA8CS, John Wagner N8CD, Jason McCormick N8EI, Zeke Zadiraka AB8OU, Mike Gerlach KD8TQU, Jeff Royer W8TB, Bennie Murawski KC8DEO, Rachel Hilson KC8RYV, Scott Talbot KD8RWX, Eric Mast E8WLM, Landon Miller KE8FAE, Javan Miller N8JLM, and Brooker Breece KD8JNX.
New Field Day System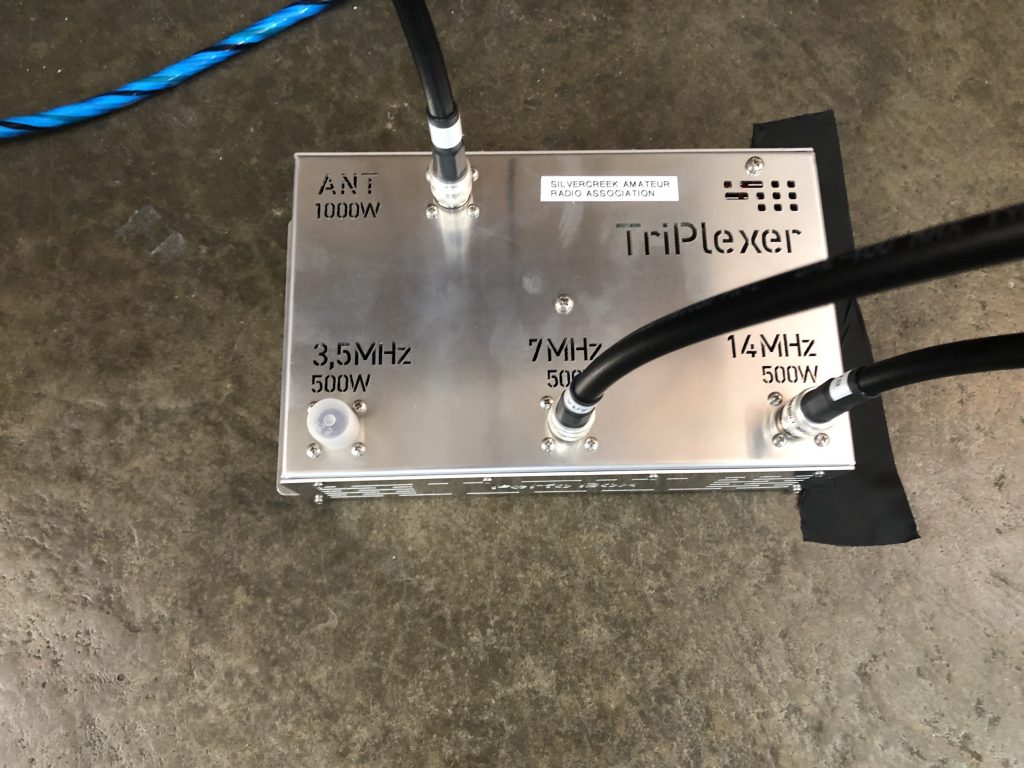 For this year, SARA started to roll out its new "core capabilities" concept with the purchase of a 80/40/20m triplexer and several club members purchasing matching bandpass filters. The design goal was to do 80, 40, and 20 SSB Phone through the triplexer in a continuous-operation mode. I built a three-mode fan dipole for the event and we had it well-tuned for the phone regions of each band. Due to a last-minute change of operating plans, only the 20m and 40m stations ended up going through the triplexer while the 80m station ended up on an inverted-V to support FT8 operations. All three main stations used bandpass filters and aside for some periodic interference from some 100W FT8 operations on 80m, everything performed flawlessly together without interference. The goal of operating 5A worked out well and there were no logistical issues.
The 20m system was deployed with the intention to do 20m during the day/evening and 160m overnight. Interestingly, we found that the 160m dipole tuned up nicely on other bands as well and was pressed into operation on some other bands/modes and still didn't interfere with the other stations.
Overall the new core capabilities concept was a great success!
Ken KA8OAD operated his 10m and VHF/UHF system successfully while Mike KD8QTU operated on 15m and hit a number of openings on that band this year.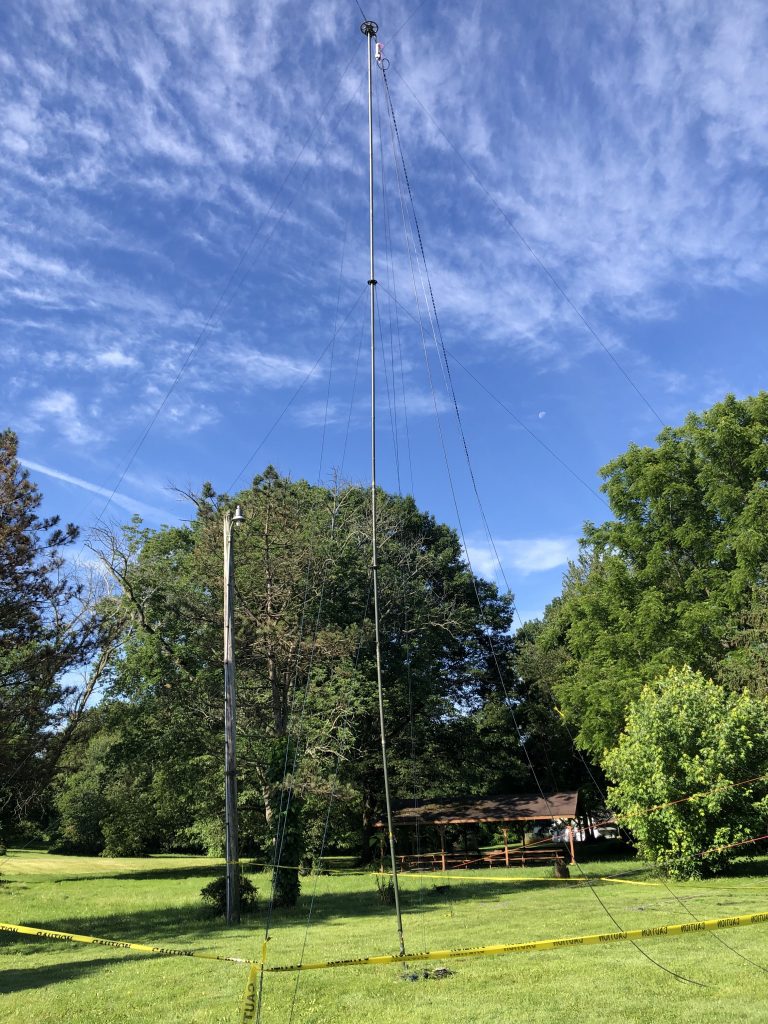 For next year, we plan to continue on with this plan and continue to build out SARA's capabilities. Next year, we will definitely operate three stations for SSB Phone for 80, 40, and 20 (and CW on 40 and 20). We'll have a separate station on a separate antenna to do CW and FT8 on multiple bands using a tuner, primary for 80m CW and FT8. We'll have to work out how to best position the antennas to not interfere, although we ended up pretty good this year without planning that out in detail. Next year, the CW/digital station may end up with an OCF tunable dipole to most effectively support all the main bands. In this scenario, we would likely end up operating 6A next year.
Finally, there was some on-site discussion about SARA perhaps getting a multi-band vertical such as a Hustler 5BTV and putting that at the top of a mast rather than a wire dipole. So the club-purchased additions for next year will likely be a vertical antenna and some club-owned bandpass filters.
Food Report
SARA takes particular pride in its food. This year, Bob W8IJG turned in his usual excellent culinary feast. Saturday dinner was Italian sausage with Bob's famous macaroni salad and some excellent desserts, including ones from Bennie KC8DEO and the Millers (KE8FRP et. al.). Sunday breakfast was Bob's Cowboy Breakfast Casserole and some sausage patties. Needless to say, no one went hungry during the event!
---
Photos
A number of photos were taken at Field Day. Here's a clickable gallery or you can go to the main Field Day 2019 photos gallery.
[ngg src="galleries" ids="51″ display="basic_imagebrowser" ajax_pagination="1″ display_view="default-view.php"]