This report and the pictures come courtesy of Fred KD8GYS and Del N8OFP –
The Sunday Evening 6 meter net was run from a special location on August 7th. Fred KD8GYS along with Del N8OFP setup the net control station from the Sterling Ohio stop on the Rails To Trails line. The net was run in its entirety from that location to help promote the County Line Trail that runs from Creston to Rittman, Ohio. Battery power for the portable setup was from Fred's truck. The weather was great for the event, and brought in 27 check-ins.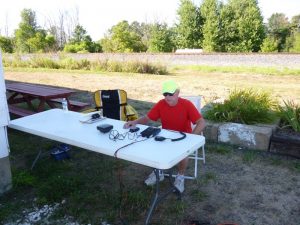 The Sunday Evening 6 Meter Net has been in operation for several years thanks to the efforts of Fred, KD8GYS, and takes place on N8XPK's wide area 6 meter repeater. More information on how to access the repeater and the net can be found on "Friends of SARA" net page here. Keep an ear on the Sunday Evening 6 Meter net, where there are plans to run the net from the Rittman and Creston stops along the trail as well.