The Silvercreek Amateur Radio Association's license exam session on Saturday, June 6th was a huge success and set a new record for tests given (and passed!) at a single session for our VE team.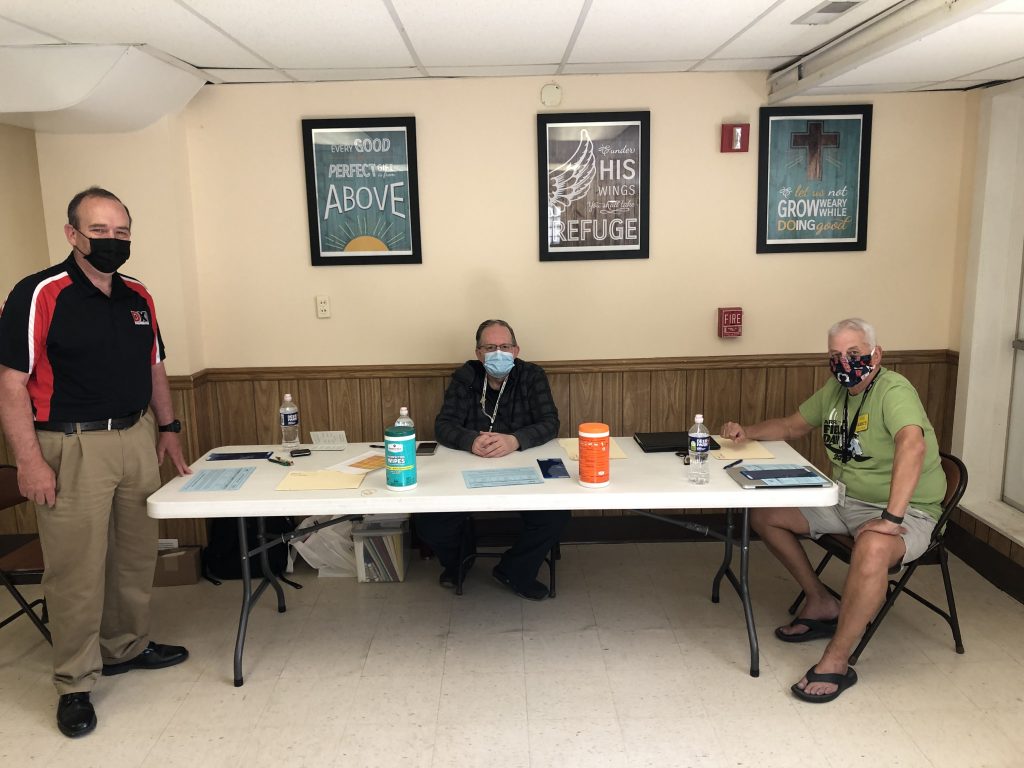 SARA began conversations almost a month ago between our VE Team Lead Stephen Kinford N8WB and the club officers on if and how to have a license exam session. As license exams since March were essentially non-existent in our area due to the pandemic, everyone felt strongly that SARA should hold theirs if at all possible. The biggest challenge was a location where we could have appropriate social distancing and to accommodate a reasonable amount of people. Our usual location at the Wayne-Rittman Library was too small and, in any case, not available as libraries were still closed.
Stephen was able to call on a relationship with Sharon United Methodist Church in Sharon Center who graciously allowed us to hold our exam in their basement activity room. The room was large enough and had enough tables to keep everyone 149.9 MHz apart during exams while being able to have a reasonably-sized group taking a test.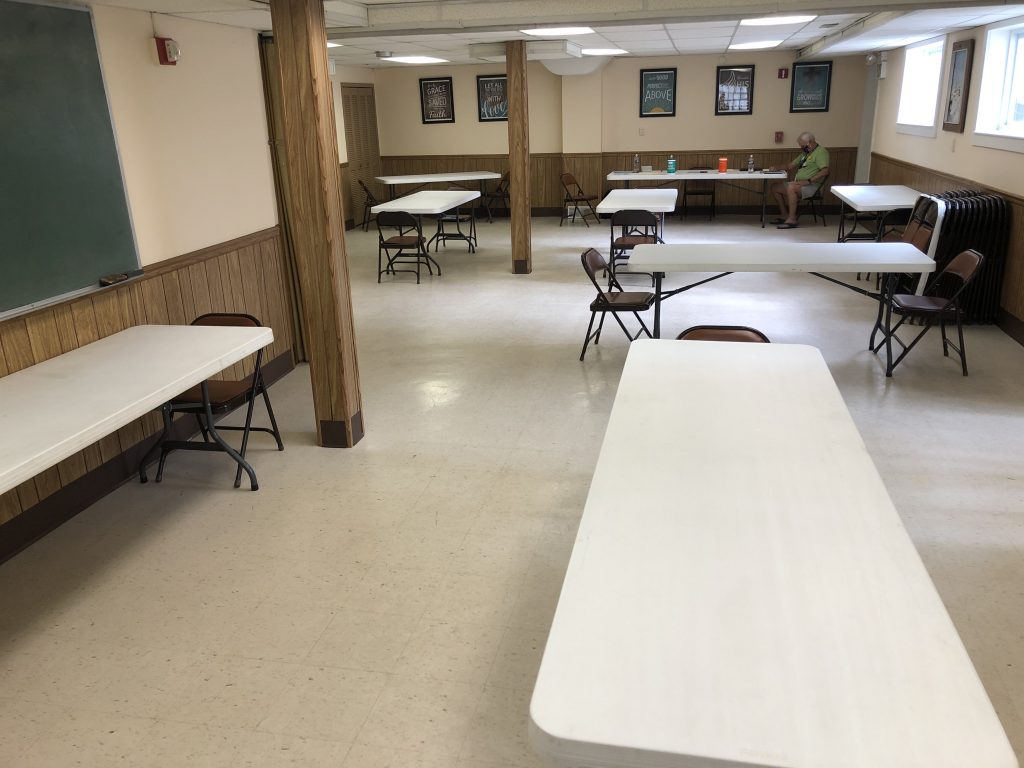 As test day approached, the volunteers for the VE Team were watching the registration count going up and up! The pent-up demand we thought would be out there was definitely there. However, thoughts turned to how we were going to serve a huge group of people with the distance and occupancy requirements by an exam group that handles on average six to eight test takers in a given exam. As of the morning of the exam, SARA had 28 registered attendees and, despite a few no-shows of the preregistered people, ended up giving 32 people exams!
Stephen worked out a good system to keep the crowd moving quickly. Another volunteer, Doug Hunter KE8JNH, was tasked to setup a "registration" desk outside of the test room and control the traffic flow. Stephen also e-mailed everyone who preregistered a copy of the answer sheet blank and the NVEC 605 form and asked them to bring it with the registration information already filled in.
Although the test session wasn't scheduled to start until 10:30am, an almost-full crowd was already lined up at the door by 9:50am so the team began to have groups sit for their exam as soon as everything was setup. The team was glad they did because the VE team "day" from setup to tear down was almost four and a half hours!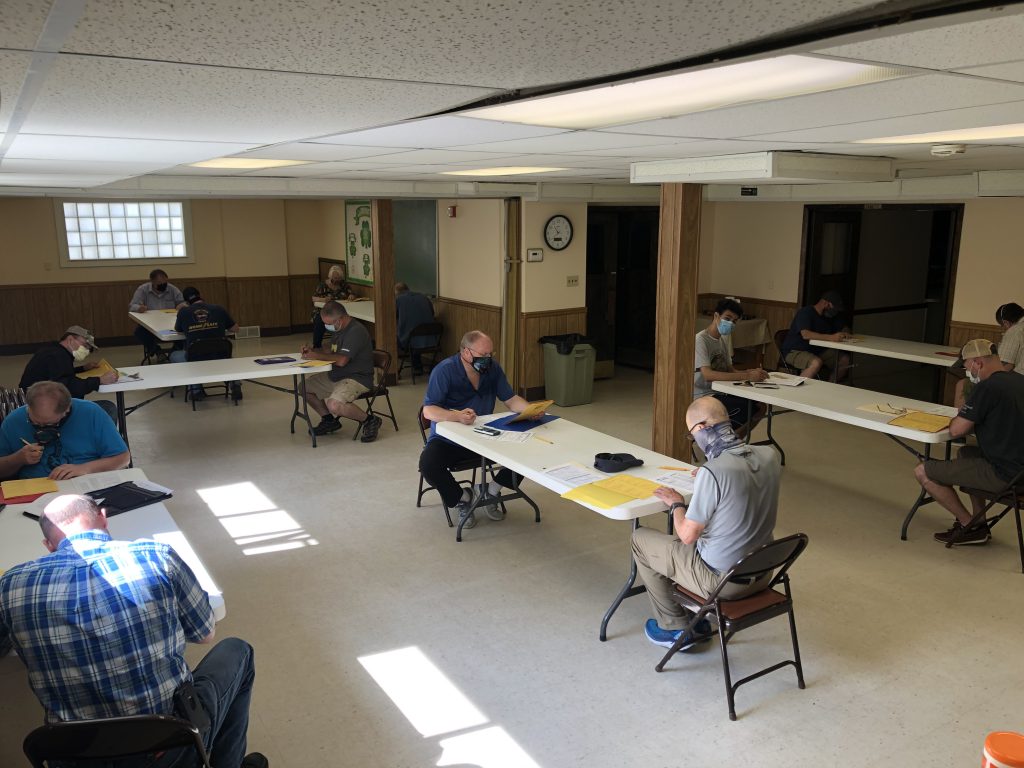 Despite some long waits for the team to score tests and issue paperwork, everyone was happy to be tested and many expressed profuse thanks for having the exam session and volunteering time.
In the end, 28 people who came to the exam got what they came for. SARA's exam resulted in the following:
19 new Technician class licensees
3 new General class licensees who started the day out unlicensed!
3 upgrades to General from Technician
2 Extra class upgrades from General
One of our new General class licensees showed up ready to claim his pre-1987 Element 3 credit for the old 50 question Technician FCC exam (FCC Rule 97.505(a)). He proudly pulled out his FCC license from ….. 1966!
All in all, it was a terrific day and an extra-special, fun, exhausting treat to give exams to 32 people!
Saturday's VE Team was Stephen Kinford N8WB, Gary Shorter AA8CS, Doug Hunter KE8JNH, and Jason McCormick N8EI.