From Zeke- AB8OU –
At the November 17, 2016 meeting, Great Lakes Division Director Dale Williams, WA8EFK, presented SARA with a certificate in recognition of SARA achieving Special Service Club status.
IMPORTANT – IF YOU WANT TO PRINT OUT THE CERTIFICATE, DON'T RIGHT-CLICK SAVE THE PICTURE BELOW. IT'S ONLY A LOW-RESOLUTION PREVIEW. CLICK THE PICTURE AND A PDF WILL DOWNLOAD THAT WILL PRINT CORRECTLY ON 8 1/2″ X 11″ PAPER.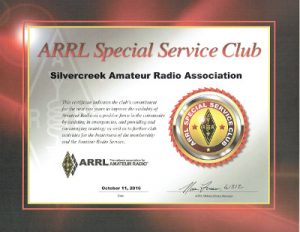 According to the ARRL web site, "A club that exists to go above and beyond for their communities and for Amateur Radio is what defines a Special Service Club (SSC). They are the leaders in their Amateur Radio communities who provide active training classes, publicity programs and actively pursue technical projects and operating activities."
Since the members commitment is what creates a Special Service Club, all SARA members are invited to
download this PDF file
and print a copy of the certificate to display proudly in their shacks as a sign of their continuing commitment.