Thanks to everyone that participated in the 2016 Statewide Tornado Drill. Here is a picture of Fred/KD8GYS running the SARA tornado drill net today, and Phil/N8VGX logging for him.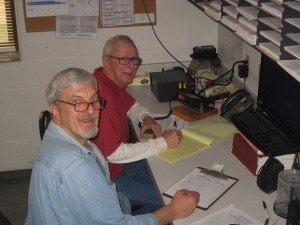 We had 33 check-ins which beat last year's 31 for a new record! Thanks to Fred and Phil for running the net, and also to Mike, N8QQN for hosting the event at the Rittman Police station along with the photo and statistics.
Here's a picture of KD8GYS at the microphone with N8VGX at the logbook.