Radio and Programming Clinic – Oct 20!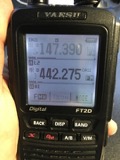 Reminder that the fall Radio and Programming Clinic is coming out October 20th at the Wadsworth Public Library. This event is perfect for the new ham who wants to learn about FM communications, repeaters, and programming radios. It will also cover information relevant to the experienced ham who wants to gain experience in radio programming and using the Chirp software.
See the Event Page for the Clinic for full information.