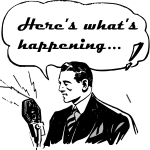 ARES EC for Portage County James Andrews KD8VT is starting a new regional Skywarn net for all Skywarn members as well as weather-interested hams. The net will meet monthly – day and time still to be determined. The repeater used will be 146.895- PL118.8 out of Kent. The monthly net is a preparedness net to raise awareness of the Skywarn program, generate interest in a Skywarn reporting network, and to prepare to share weather information in severe weather. Hams from outside of Portage County, especially those in Wayne, Medina, Summit, and Stark are encouraged to participate as well since most weather in the area generally comes west to east. Watch w8wky.org for more information when it's up and running.
The Intercity Amateur Radio Club is sponsoring their Mid Winter Hamfest and Computer Show on Sunday, February 17th at the Richland County Fairgrounds, 750 North Home Road, Mansfield Ohio. Tickets are $7 and tables are $20. Tables are only available in advance. See the Intercity ARC website for more information. http://www.iarc.club/hamfest/
The next SARA meeting will be Thursday, February 21st, 2019 at Beef O'Brady's in Wadsworth. This month's program will feature, Scott Yonally N8SY who will give an update on all things ARRL, Great Lakes Division, and the Ohio Section. Don't miss Scott – he's always a must-see every year!
The next VE session given by SARA will be on Saturday, March 2nd at the Rittman Public Library. See details on our website w8wky.org under "Get Licensed". Now is a great time to upgrade before the summer DX season and the Ohio QSO party!
The Ohio Section ARES Conference will be held on April 6th at Marion Technical College / OSU Marion Campus. So make sure to mark your calendars for this date and watch the Ohio Section Newsletter for more information.