This is the forth in a series of short reviews of handheld/portable/HT radios. Read more about the series here.
The Baofeng UV5R Dual Band HT
In 2014, a company that no one had heard of released a radio into the ham radio market that arguably changed the hobby in some ways forever. Whether you love them or hate them, the Baofeng started a low priced ham radio revolution.
Before the UV5R was introduced, even the simplest new dual band HT cost over $150. The Baofeng hit the market at about $35, with some deals even less. People that were put off by the cost of ham radios bought these, and I'm aware of at least a few people that were on the fence before that ended up getting their license because of the cheap radios. Even today, these radios are available for less than $28 with free prime shipping at Amazon.
I bought this UV5R just a few months after it came out. Generally, it's a good little radio. Consistency has been an issue with these radios and other inexpensive radios that came after it. Even within the same model and version, some had strong transmit audio, and some had muffled audio. Some were very clean on a spectrum analyzer, and some had spurious emissions and harmonics that were far outside of FCC regulations.
I got a good one. These radios are small, lightweight, have very long battery life, good receive audio, and a better-than-average-sturdy belt clip. They are not a true dual band radios that can receive on one band while transmitting on the other, but that's not something most hams do on a regular basis.
The radio has 128 memory slots, supports alpha-tagging of memory channels, can be programmed with a computer, receives the FM broadcast band in addition to the 2m and 70cm ham bands, and supports various types of scanning. All that for less than the cost of a replacement battery for most other brands of HTs.
I did find that mine had a common problem with low and muffled transmit audio. A partial fix for mine was to drill out the microphone hole slightly by hand (NOT with a drill) with a 1/16″ drill bit. AT YOUR OWN risk, you can slowly turn a 1/16″ bit gently between your fingers into the mic hole until you feel it just barely contact the microphone element. This didn't totally fix the low and muffled transmit audio on mine, but it did improve it significantly. A word of advice – even with this modification, get up close to the microphone and speak forcefully to heard on this radio. Otherwise the transmit audio is anemic on most of these UV5R radios.
Back to the consistency issue – I have checked my UV5R on a spectrum analyzer, and found that while it was on the edge of legal, mine had a fairly clean profile for harmonics and spurious emissions. Check out this Youtube video for a comparison of what some others look like. Aside from the legal issue, if your radio puts out 4 watts, it's helpful if most of that 4 watts is on the frequency you want rather than in noise products.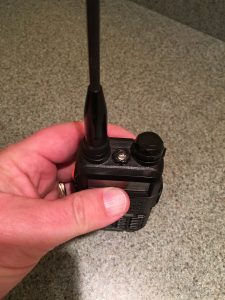 Pros:
Extremely inexpensive
Plenty of memories and other features for most hams.
A physically sturdy radio with a near commercial-quality belt clip.
Receives FM radio and even non-digital public service, weather, and other frequencies.
Great battery life
Cons:
Inconsistent quality control – one radio performs reasonably well, and the next one has technical flaws.
Generally low transmit audio – make sure you are close and loud to this radio when transmitting.
It's light weight and small size make it feel less sturdy than it actually is.
Conclusion:
As much as I'd like to hate this little radio, I can't. It's not my favorite or my daily driver, but especially when you consider how inexpensive it is the radio is tough to beat. I would recommend this radio either as a starter radio for a new ham or a second radio for someone that needs one for a small amount of money.