Modern Icom radios that support the D-STAR mode, have a great feature built into them called Digital Repeater or "DR" Mode. I learned about this mode from the D-STAR Forum at Hamvention 2019 and wanted to share it with the club.
The DR Mode is a great feature of Icom radios and makes using D-STAR (and analog FM) repeaters even easier than it already is. DR Mode is available on the following Icom models: IC-80, IC-880H, ID-31, ID-51, ID-4100, ID-5100, and ID-7100. The DR Mode is exclusively for repeater access as opposed memory channels or the VFO which can be repeaters, simplex, or anything else supported by the radio. DR Mode also supports a GPS location-based functionality on models with GPS support to select the "nearest" repeaters.
There are only two things to configure to make DR Mode work properly on a radio – the Repeater List and the Your Call list.
The repeater list is straight forward. It is simply a listing of repeater names, callsigns, frequencies, PL/CTCSS tone, DCS Code, D-STAR RPT1/2, GPS location, etc. depending on the type of repeater. The repeater list can be organized into groups which is helpful for non-GPS-based operations of the repeater list.
The Your Call list is a listing of a D-STAR URCALL command and a name for it. You can add the standard repeater commands such as " I" or " E", reflector linking commands such as "XRF330AL", repeater linking commands, callsign routing, and anything else that is supported by a D-STAR repeater.
Programming with the Icom Software
To enable DR Mode, the Repeater List and the Your Call list must be populated. These screenshots show where the configuration is located: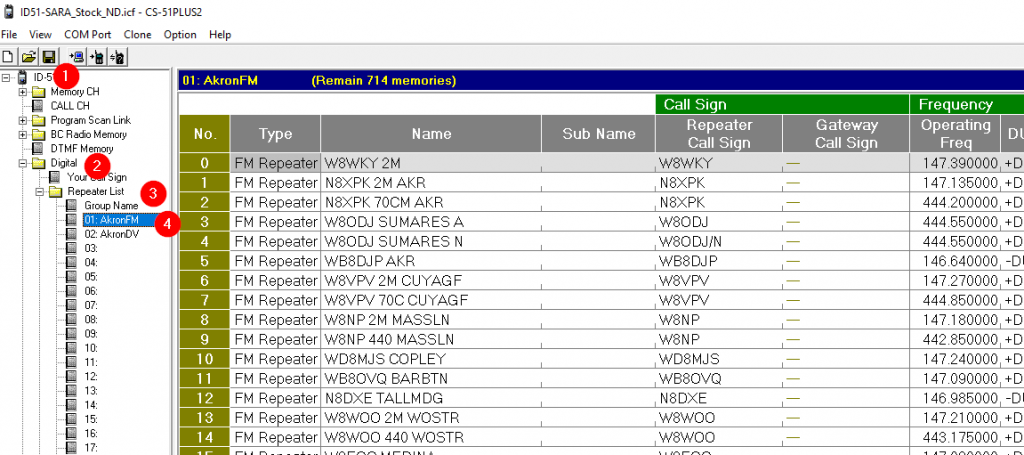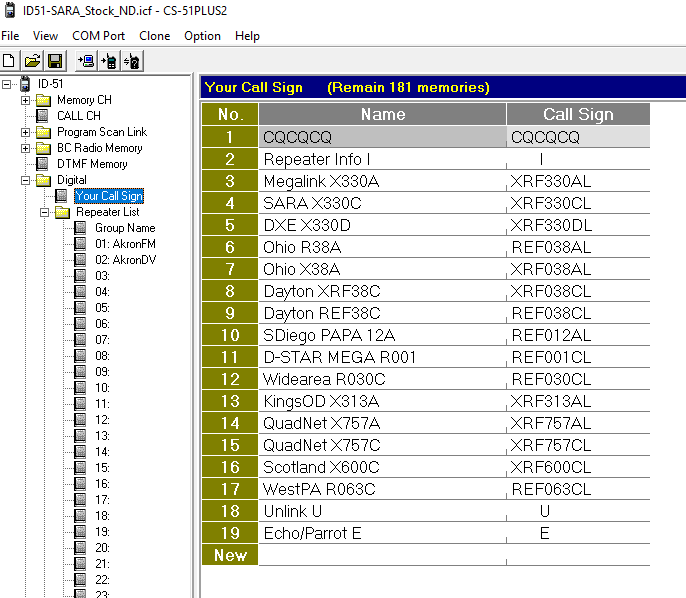 One can import the following CSV files to populate the Repeater List and the Your Call field:
Using DR Mode on an Icom ID-51+2
To use the DR Mode on the ID-51, do the following:
Press and hold the DR key on the center navigation key – the DR key is "down" – until it beeps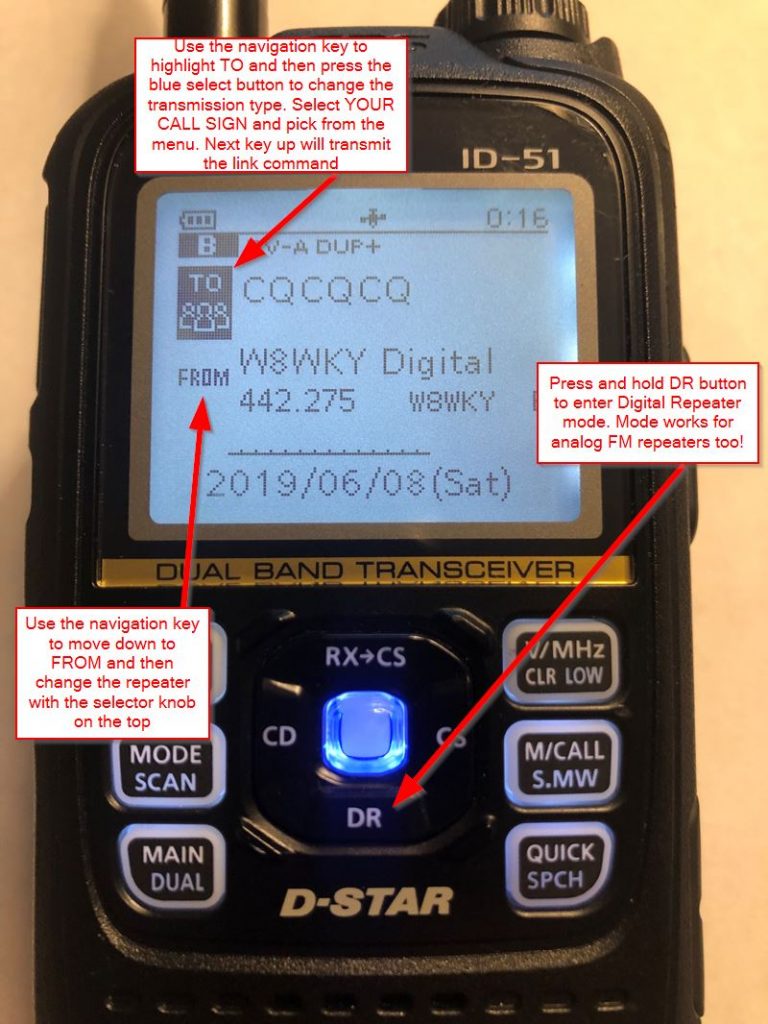 Selecting FROM on the keypad and then turning the selector knob will select through the repeaters in the Repeater List
Selecting TO on the keypad and clicking the blue select button allows choices to be made as to what "URCALL" will be set to. There is always a CQCQCQ choice. The second most-useful menu us Your Call Sign which is the reflector linking commands programmed above. Select one, key up, and your radio sends the command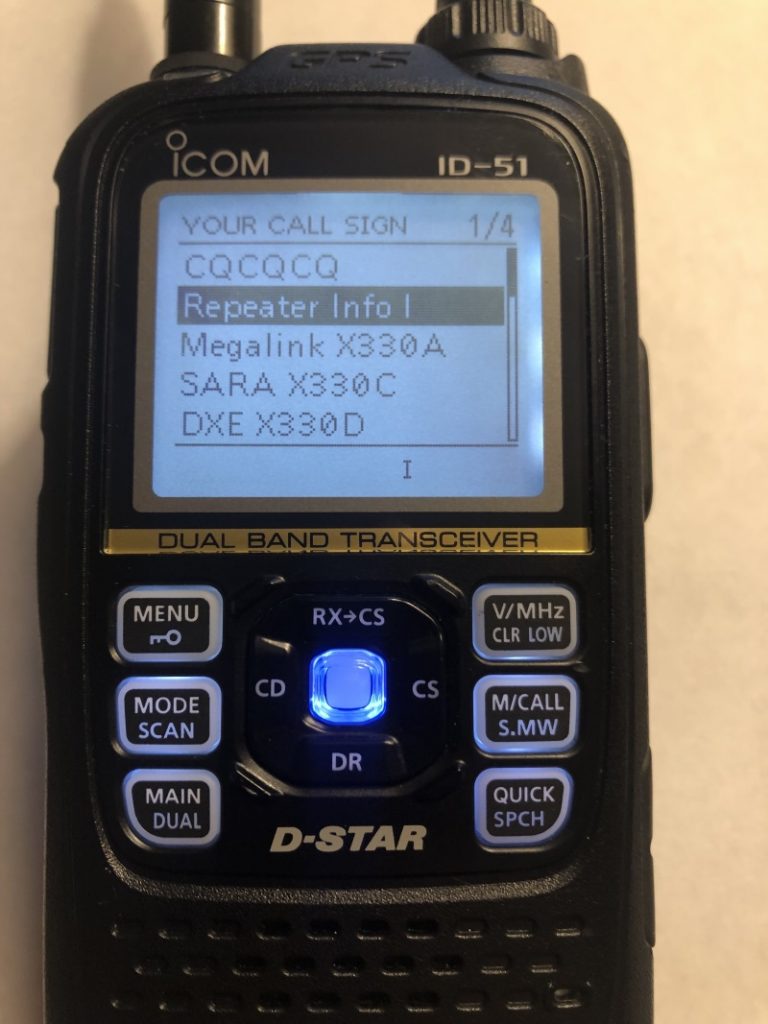 Another nice feature of DR Mode is the ability to scan based on location. If the Repeater List entries have associated GPS coordinates, the radio will use its GPS coordinates to scan "nearby" repeaters.