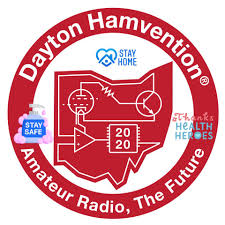 Hamvention 2021
Due to the restrictions brought upon us by the COVID-19 pandemic, the largest convention for ham radio was once again postponed until 2022. Since Dayton Hamvention located every year in Xenia, Ohio is such a popular event, DARA (Dayton Amateur Radio Association) and the Hamvention committee planned a full weekend of activities that we can participate in from our own homes.
On Thursday, May 20, world-class contester Tim Duffy, K3LR will be again putting together the famous Contest University with help from Hamvention. Although the target audience is contesters, there will be some trick about DXing or propagation that every attendee will be able to take home. To register and learn more about this event, go to www.contestuniversity.com.
On Friday, May 21, Dayton Hamvention will be putting on a forum presenting the DARA special achievement award winners. Since each award winner will be given a time to talk about their achievements, be sure to attend the Hamvention Forums. To register and learn more about this forum, go to www.hamvention.org/forums-2021.
Last but not least, Saturday, May 22 will be the date for the Hamvention QSO Party. In this 12-hour event, each station tries to contact as many other stations as possible, exchanging RS(T) and their first year of attendance to Hamvention. If the participant has never attended Hamvention, their exchange will be "2021". To learn more about this QSO party, go to www.hamvention.org/qso-party-2021.
As time permits, be sure to participate in all of these activities. By attending the Thursday and Friday Webinars, you will be automatically entered into a drawing for a total of eight Icom radios, thanks to Icom America and DX Engineering. Enjoy Hamvention 2021!