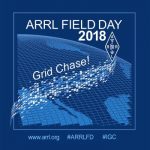 ARRL Field Day is the single most popular on-the-air event held annually in the US and Canada. On the fourth weekend of June of each year, more than 35,000 radio amateurs gather with their clubs, groups or simply with friends to operate from remote or non-standard locations. The 2018 Field Day will be held June 23-24, 2018. Operating begins at 18:00UTC (2:00p EDT) on Saturday and ends at 20:59UTC (4:59p EDT) Sunday.
SARA Field Day Logistics
SARA's 2018 Field Day operations will be held at the American Legion Post 243,
220 E. Sunset Drive, Rittman, OH 44270
. Operating will begin at 2:00pm EDT on Saturday the 23rd and will end around 12:00pm EDT on Sunday the 24th.
SARA Field Day Operating
SARA operations for Field Day will be a "Class A" setup. A Class A operation means that all transmitting and receiving equipment will be operating on independent, non-commercial power. SARA is planning to operate as a 3A or 4A setup (the number being how many simultaneous transmissions) depending on the advanced commitments of the membership for equipment and dedicated operators. If you are planning to come to operate, please contact Jason McCormick. Anyone is welcome to drop by, but if you know in advance you plan to come and want to operate for a block of time, let Jason know so we can plan setup and schedules as much as possible.
What Happens During Field Day?
During Field Day, individuals and clubs in amateur radio operate in non-traditional locations as an exercise at station portability and emergency power setup. Operators then run a contest-like event where stations attempts to contact as many others as possible. The exchanges are not extensive and limited to sending the station class and location to each other. For example, an exchange between SARA's field day operating as W8WKY and W1AW would be:
W8WKY: CQ Field Day, CQ Field Day – this is whiskey 8 whisky kilo yankee
W1AW: W8WKY this is whiskey 1 alpha whiskey
W8WKY: W1AW please copy 3 alpha Ohio
W1AQ: roger roger please copy 2 delta Connecticut
W8WKY: Thanks for Connecticut. 73. W8WKY QRZ?
Anyone is welcome to operate at Field Day, including unlicensed and Technicians who do not have privileges in most of the HF bands. Control operators will be on hand to allow everyone to legally "get on the air" and enjoy the excitement.
Saturday Dinner and Sunday Breakfast
SARA will provide dinner on Saturday for all Field Day staff from the club. Sunday morning is "bring your own ingredients" and our chef extraordinaire will whip up a tasty breakfast for you.
Volunteers Needed!
Club members are needed to volunteer as visitor greeters. A visitor greeter will be assigned a shift and will be "on point" to welcome visitors, explain amateur radio, answer questions, and encourage people to operate. While serving as a visitor greeter, one can do other tasks at Field Day, but would be expected to watch for visitors and stop other activities to assist. Visitor greeters will be present 6/23 2p-10p and 6/24 8a-12p.
T-Shirts
Club members will have the opportunity to purchase official SARA Field Day t-shirts. The t-shirts will be a safety yellow-green color with the SARA logo on the front left chest and the words "Field Day" on the back. There will be no dates on the shirt so it may be used for multiple years. The shirts are $12 payable to Jason McCormick by May 1 (correct change appreciated, checks made out to S.A.R.A). Sizes are available from S – 6XL.