All of SARA's digital repeater guidelines are living documents that will be updated with the latest information as we learn along with you. Please check back on this page often for the latest information.
This repeater doesn't just do DMR – it also does DSTAR, YSF, and P25. Please familiarize yourself with this concept on our MMR intro page
SARA's 442.25 repeater is connected full time to the Brandmeister network. Brandmeister's philosophy puts most of the control on how the repeater is used in the hands of the user, making it important that those users follow some basic guidelines so that everyone can get the most out of the system.
To use the repeater, your radio's channel programming (codeplug) will need to be configured with:
RX: 442.275 / TX: 447.275 (or 442.275 +5MHz offset)
Color code 1
DMR Usage Guidelines for 442.275
Please keep networked talkgroups on timeslot #2, and use timeslot #1 for local conversations. For example, if you are making your own codeplug, please do NOT put TAC310, Ohio 3139 or other Brandmeister talkgroups on slot 1.
For local conversations, please use talkgroup 310961 on timeslot #1 rather than Local 9. While Local 9 will work for local conversations and is permitted, using the repeater's talkgroup of 310961 will serve the same function as Local9 and will also allow travelers, members, and others in our local community to use their hotspots to join in on the conversation without the need to connect to a busy networked talkgroup.
Feel free to connect timeslot #2 to networked, Brandmeister talkgroups, but please be respectful of others and do not key up busy talkgroups repeatedly so that you can listen. If you would like to listen to TAC310 all day, you should consider buying a hotspot or listening to the Hose rather than tying up a high profile repeater.

You can view talkgroups that are currently linked to the repeater on the repeater's Brandmeister dashboard page. Because the repeater is shared by YSF, DSTAR, and P25 users along with DMR, it is not connected full-time to any busy talkgroups.
You can view the status of the repeater for all modes at the status page – https://442275.w8wky.org
Below are some guidelines for adding 442.275 DMR mode to your radio's codeplug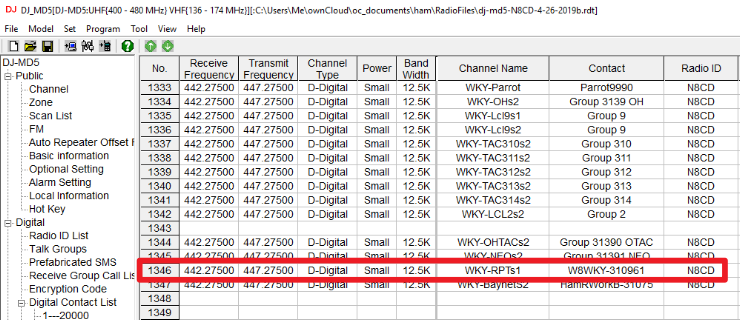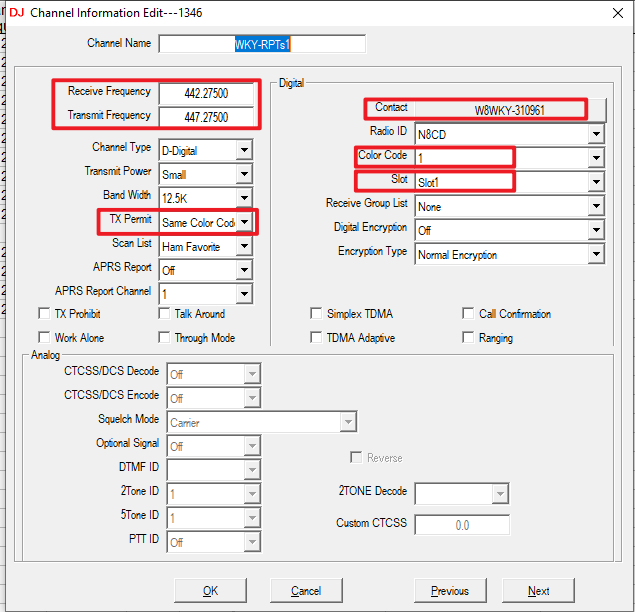 To get you started, here's a few minimalist codeplugs for some popular radios you can try: