Running now through Sunday, May 31st, SARA will be taking orders for the SARA Callsign Badges to be purchased as a group buy. SARA will foot the bill for shipping and handling of the entire order to save you money!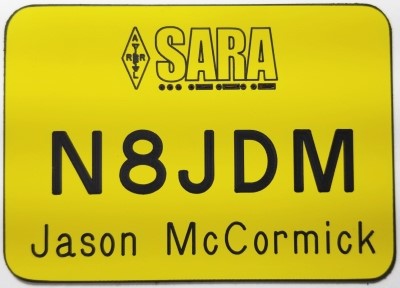 SARA has partnered with the The SignMan of Baton Rouge to develop and provide SARA-branded member callsign badges. The badges are the engraved style with black lettering on a yellow background. The top portion is the SARA logo followed by your callsign in the middle and the a line of text at the bottom, usually your name. The size of the badge is the same dimensions as the ARRL Appointees badge (e.g. VE badge, EC badge, etc.).
The cost of the badges are as follows:
Badge w/ Standard Pin Fastener – $16.50
Badge w/ Swivel Alligator Clip – $18.00
Badge w/ Magnetic Bar – $19.25
Badge w/ "Mega-Strong" Magnetic Bar – $20.25
If you want to order a badge, please place your order through the SARA website. Your will need to supply the name you want on the badge. Your callsign will be set automatically. If you need something special, please contact Jason N8EI directly for a custom order.
Also, the SignMan is an authorized dealer of official ARRL office and role badges. If you are a VE, SEC, DEC, etc. you can obtain your badge here as part of the order and save on shipping. Contact Jason N8EI directly.